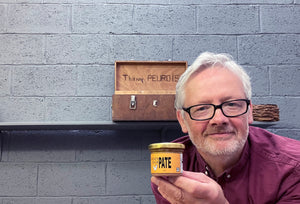 Le Paysan Artisan Food
Is an award winning Irish Artisan food business established in 1996 by Thierry Peurois. Our kitchens are located in Co Wicklow where we produce delicious outstanding pates made from traditional French family recipes.
Charcuterie Artisanal établi depuis 1996 dans le Comté de Wicklow. Nous combinons les traditions Française et les meilleurs ingrédients Irelandais.
We make Irish Artisan Products
We like slow food & authentic living that considers the planet first. We want to share our skills, traditions & the quality that comes from superb Irish produce merged with generations of French expertise.
Nous aimons faire les choses en respectant notre planet si fragile. Nous souhaitons partager nos traditions, notre savoir faire et la qualité issue du mariage des meilleurs ingredients Irelandais avec des generations d'expertise Françaises.